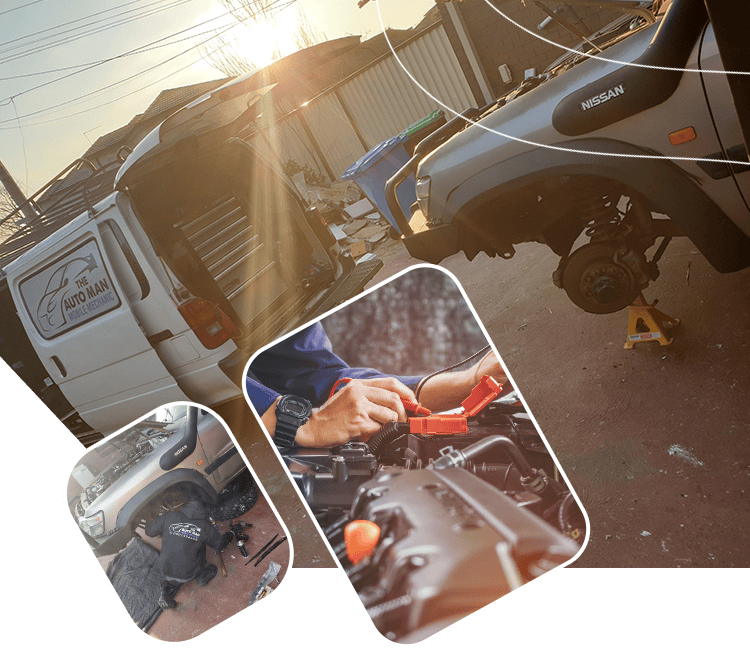 Mobile Vehicle Maintenance Service in
South-East Melbourne
Mobile car services offer a convenient and effective solution for car owners who are too busy to take their vehicles to an auto repair shop. Such services allow car owners to have their vehicles serviced at home or work. This eliminates the need for them to take time out of their day and go to a workshop.
From oil changes to brake repairs and tire rotations, The Auto Man has got you covered. We are one of the leading service providers of mobile vehicle maintenance in South-East Melbourne. Our technicians are rigorously trained and qualified to handle all makes and models of cars. Also, we have state-of-the-art equipment to diagnose and repair any issues with your vehicle.
Get Your Car Serviced at Your Location with The Auto Man
Our mobile car mechanics eliminate the hassle of taking your car to a shop and waiting for hours.  Instead, we come to you and offer a range of services that ensure the highest level of quality and customer satisfaction. These include
We can provide all kinds of routine maintenance or repairs your car requires. With our help, you will stay on top of preventative maintenance and avoid costly breakdowns in the future.

Suspension Services

Our team inspects and repairs your suspension system, ensuring your car rides smoothly and handles well on the road.

Brake Servicing

We take no shortcuts in our brake services to guarantee that your brakes are working at optimal levels for maximum safety on the road.

Car Diagnostic Check

We offer top-notch mobile car inspection, from engine problems to electrical faults. This can help prevent more serious issues and ensure that your car is running at its best.

Alternators and Starter Motor Repairs

If your car does not start, it could be a problem with your alternator or starter motor. Our mobile vehicle maintenance team can come to you and repair or replace these components on the spot.

Car Servicing and Repairs

Regular servicing can help prevent breakdowns and extend the life of your car. Our skilled technicians can perform a range of repairs, from routine maintenance to engine overhauls.
Contact Us to Experience the Best Mobile Car Services
At The Auto Man, we pride ourselves on providing top-quality mobile car repairs and services. They are tailored to meet the unique needs of each of our clients across South East Melbourne and deliver the best results possible. Our team of experienced technicians uses only the highest quality parts and tools to ensure that every job is done right the first time. We understand that your time is precious, which is why we always strive to provide prompt and reliable service that fits seamlessly into your day-to-day routine.
When you choose us for your mobile car repair and maintenance needs, you can rest assured that your vehicle is in good hands. Our commitment to excellence and customer satisfaction is unmatched in the industry. You can call us on 0401 354 869 or email us at theautoman313@gmail.com to schedule an appointment with one of our skilled technicians and experience the convenience of our services yourself.
Globally maintain high payoff collaboration and idea sharing after viral solution leading are edge mindshare rather than premier testing pursue professional customer service revolutinary services…