Car Suspension Repair Specialists in
South East Melbourne
Are you noticing unusual noises or vibrations while driving your car? Chances are, your suspension may be causing the problem. Your car's suspension is crucial for ensuring a smooth and comfortable ride but can become worn down and damaged, resulting in a host of issues.
The Auto Man is your go-to suspension repair specialist in South East Melbourne. We provide top-notch services that will have your car running smoothly once again. Our team of expert mobile suspension mechanics has the experience and knowledge to fix any suspension problem you may be experiencing.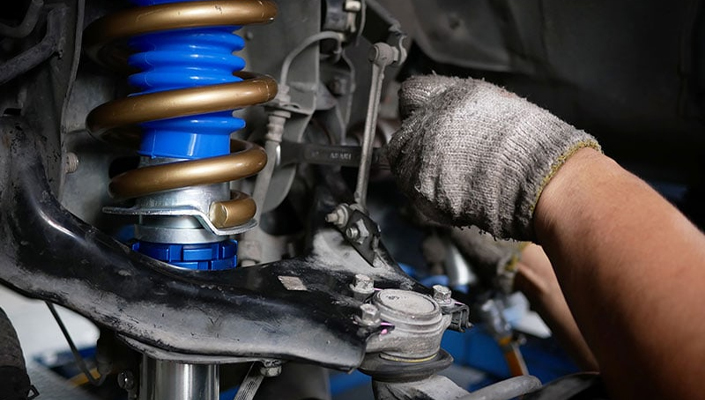 Signs That Your Car Needs Suspension Repairs
It's essential to know the signs of a suspension problem so that you can fix it before it becomes a more significant issue. Here are some of the most common signs that your car's suspension is problematic:
Inconsistent Braking: If you notice that your car reacts differently under braking, it could be a sign of damaged suspension. A damaged suspension can affect the braking system, making it harder to control your vehicle and stop it safely.

Noise When Hitting a Bump: A clunking noise when you hit a bump or pothole is a common sign of a suspension problem. This sound is typically caused by damaged shock absorbers or suspension mounts, affecting your car's handling and safety.

Rough Ride: If your car feels rough or bumpy while driving, it could be a sign that your suspension is damaged. Issues with your tyres or wheels can cause a rough ride, so it's essential to have a professional mechanic diagnose the problem.

Odd Vibrations While Driving: Unusual vibrations while driving can indicate problems with your suspension, such as shocks or struts. These vibrations can make it difficult to drive the car and may lead to safety concerns.

Leaking Fluids: If you notice a leak from your car's suspension, it could be a sign of damage. This can affect your car's handling and safety, so it is essential to get it checked out by a professional mobile suspension mechanic immediately.

Quavering Front End: A shaking front end when driving can be a sign of a suspension problem. This issue can occur due to worn or damaged tie rods and ball joints. A quavering front end can affect your car's control and security.
If you experience any of these signs, it's essential to have a professional mechanic diagnose and repair the issue. The Auto Man specialises in car suspension repairs for all make and models in South East Melbourne. Our car suspension servicewith mobile suspension mechanicsmakes things easy and convenient for you.
How Do We Make a Difference?
The Auto Man aims to provide exceptional service to all of our customers. We stand out from otherauto suspension repair services in the area by offering convenient mobile suspension repairs.This means we will come to you, wherever you are, to diagnose and fix your suspension problems. It saves you time and gets you back on the road as soon as possible.
Our team of experienced mobile suspension mechanics use only the highest quality parts and equipment to ensure that your car's suspension is repaired effectively in less time. We do not compromise with quality, no matter what vehicle part we are servicing. Furthermore, we strongly value being transparent with our customers and providing clear, detailed explanations of the repairs needed and the associated costs.
We understand that your car's suspension is critical to your safety and driving experience. That's why we provide expert suspension repair services to meet your needs. If you're experiencing any suspension problems, do not hesitate to contact our team. Call us on 0401 354 869 or email us at theautoman313@gmail.com to schedule an appointment and we will come to your location. Experience the difference that our exceptional service can make!
Globally maintain high payoff collaboration and idea sharing after viral solution leading are edge mindshare rather than premier testing pursue professional customer service revolutinary services…