Top-Rated Mobile Mechanic in
South-East Melbourne
If you seek convenient mobile car mechanic services in South-East Melbourne, there is only one place you should go to – The Auto Man. Our team has been serving the community for years and has built a reputation for excellence. We understand that your time is valuable. That is why we offer convenient mobile services that come right to you, whether you are at home or at work.
Our passion for cars runs deep, and we take pride in delivering high-quality workmanship with every job we undertake. From routine maintenance to major repairs, our team has the expertise and knowledge to get the job done right and properly the first time around. We offer a wide range of mobile mechanic services aimed to keep your car running smoothly at prices that will not break the bank. With our comprehensive mobile services suite, you can rest assured that your vehicle will always be in good hands.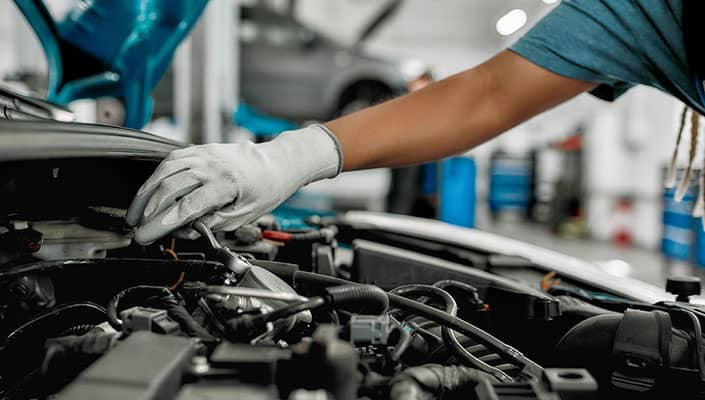 Benefits of Onsite Automotive Services
Are you tired of sitting or waiting while your car is serviced at the dealership? Do you dread the inconvenience of dropping off and picking up your vehicle from an auto repair shop? Say goodbye to those frustrations and hello to the convenience of onsite automotive services. It is very popular for many reasons, including
Convenience: With onsite car services, you do not have to take your vehicle to a repair shop or wait in line for service. The technician comes to you, saving you time and effort.

Cost-effective: Onsite services can be more cost-effective than taking your vehicle to a repair shop, as there are no overhead costs associated with taking your vehicle to a physical location.

Personalised attention: When a technician comes to your location, they can provide personalised attention and address any concerns you may have about your vehicle.

Time-saving: Getting your car serviced onsite can save you valuable time, as the technician works on the vehicle directly without the need for multiple appointments or trips to a garage.

Transparency: Onsite mobile mechanics often provide more transparency throughout the repair process, as they work directly with the customer and can explain the issue and solution in detail.

Quick turnaround: There is no need to wait for days to get your car repaired. Onsite technicians typically have an arsenal of tools and equipment at their disposal to diagnose and fix issues quickly.

Preventative maintenance: Onsite car repair services are ideal for preventative maintenance, helping to prevent more costly repairs down the road.
Choose The Auto Man for Quality On-Site Car Services in South-East Melbourne
If you need some automotive TLC, look no further than The Auto Man. With our top-notch onsite car services, you can relax while the experts take care of your vehicle. Our team consists of skilled mobile car mechanics who are passionate about cars and dedicated to providing the highest quality service.
Whether you need an oil change or brake and suspension repair, we have got your back. And with our convenient onsite car repair service, you never have to worry about wasting time at a garage or dealership. So why settle for anything less? Call us on 0401 354 869 or email us at theautoman313@gmail.com  and experience the ultimate car care in South-East Melbourne!
Globally maintain high payoff collaboration and idea sharing after viral solution leading are edge mindshare rather than premier testing pursue professional customer service revolutinary services…